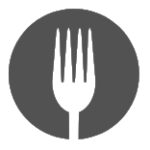 Where to Eat
With over 20 places to eat in Fairmont, your choices never get dull. Fairmont offers a wide variety of places from fast food to fine dining.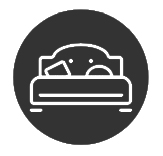 Where to Stay
When visiting Fairmont, we are located on I-90. Fairmont has lodging facilities with assorted amenities that will meet your needs.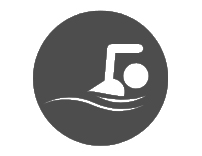 Things to Do
Fairmont has plenty to offer every day of the year. It's the people, the lakes, the parks, the restaurants, and hotels that will make your stay memorable.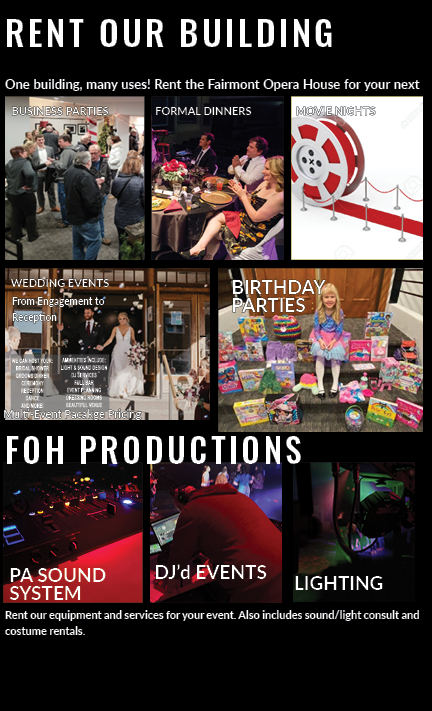 MORE THAN JUST THEATER
RENTAL OPTIONS
From Small to Big Events, we can help!
• Stage Performances
• Meetings
• Presentations
• Reunions
• Weddings
• Showers (Bridal & Baby)
• Retirement Party
• Receptions
• School & Family  Reunions
• Birthday Parties
• Graduations
• Simple group meeting
To inquire about dates and rates please call: 507-238-4900 or email us at info@faimrontoperahouse.org
explore the history & heart of the Fairmont Opera House
TOURS AVAILABLE
For tours of the Fairmont Opera House, please call: 507-238-4900 or email us at info@faimrontoperahouse.org
Please schedule tours a minimum of three days in advance.  If a tour is scheduled later than three days prior, it is at the discretion of the Fairmont Opera House Staff to approve the tour.  Limited weekend tours are available.  Weekend tours will only occur with prior approval of Fairmont Opera House Staff. If you are with a large group (15+ group members) that would like to tour the Fairmont Opera House, please notify the Fairmont Opera House no less than 1 week prior.
All tours are free of charge, but free will donations are appreciated.
ART
CULTURE
MUSIC
THEATER
LIVE
Box Office Hours:
Tuesday-Friday
9:00am-2:30pm and 1 hour prior to Event
*Doors Open 1 Hour Before Event, House Opens 30 mins Before Event
To sign up for our E-Newsletter Click here!